To be eligible for membership in the Benevolent and Protective Order of Elks, you must be a citizen of the United States over the age of 21 who believes in God.

You must be sponsored by a member of the Elks Lodge and reside in the jurisdiction of the Lodge you wish to join. You also need two other Elks who will be your co-sponsors. The Elk who proposes you for membership must obtain a Membership Application from the Lodge Secretary.

After your proposer fills in the required portion, you will be given the Application for Membership. Fill it in, following the instructions and answering all questions. Return the completed application to the Lodge Secretary.

Your application will be read at a regular Lodge meeting. It will then be forwarded to the Investigating Committee, who will call you and set up a time for you and your sponsor to meet with the committee so that they can interview you.

After the interview is concluded, the committee will report to the Lodge concerning your membership. The members will be given a notice not less than 10 days nor more than two months before the vote will be taken.

When the vote is concluded, you will be notified and asked to present yourself and your spouse for indoctrination. During indoctrination, you will learn more about the Order's programs and charities. You will also be told during the program the date you will be initiated.

After initiation as an Elk, you can take part in all meetings and social functions of the Lodge.

If for any reason your application is rejected, you cannot make application for membership for six months from the date of rejection.

Use our handy
online directory
to locate a Lodge near you. And be sure to let us know how it turns out.

OUR PROGRAMS


Public service is an integral part of being an Elk. In keeping with this tradition, Elks create and participate in many programs to better their communities and demonstrate that Elks Care - Elks Share!


Scholarships
Each year the Elks National Foundation provides more than $3.65 million in college scholarships to graduating seniors.


Hoop Shoot
The yearly Elks Hoop Shoot Free Throw Program is open to all boys and girls ages 8 through 13. The contest starts at the lodge level and advances through district, state and regional contests before the national finals in the spring.


Drug Awareness
The Elks Drug Awareness Program distributes literature and organizes events to make kids and their parents aware of the dangers posed by alcohol, tobacco and illegal drugs. Try the program's Drug Awareness quiz and test your knowledge!


Youth Activities
Other youth-oriented activities sponsored by the Elks include the Soccer Shoot, the Antlers program, the yearly Americanism essay contest and more.


Veterans Programs
Since the early days of Elkdom, the Veterans Service Commission has patriotically served those Elks who have fought for our great nation.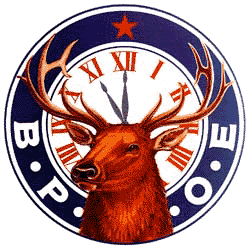 To inculcate the principles of Charity, Justice,
Brotherly Love and Fidelity; to recognize a belief in
God; to promote the welfare and enhance the
happiness of its Members; to quicken the spirit of
American patriotism; to cultivate good fellowship; to
perpetuate itself as a fraternal organization, and to
provide for its government, the Benevolent and
Protective Order of Elks of the United States of
America will serve the people and communities
through benevolent programs, demonstrating that


The mission of the Benevolent and Protective Order of elks